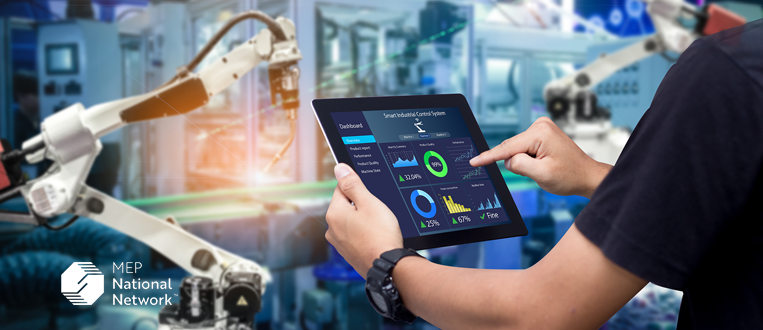 Each new year brings about a period of reflection, where one can think back on the path that the previous year took us on. The coming year represents an even larger opportunity for reflection as the world enters a new decade. Reflection provides an opportunity to learn and improve and extends beyond just an individual, but also to industries and businesses. As a U.S. manufacturing enthusiast, I'm looking back over the past 10 years and how manufacturing has changed, evolved and innovated so that I can continue to support that evolution.
The U.S. manufacturing industry is entering this new decade in a much different state than when it entered the last. The industry is no longer shaking off the aftereffects of the Great Recession, but it is still grappling with the economic uncertainty that comes with new trade deals and tariffs. There is also the need to keep pace with the ever-increasing speed of technological change. Industry 4.0 and its adoption by U.S. manufacturers has begun to pick up steam, and manufacturing's digitization is only going to increase. Things like 3D printing, advanced robotics, artificial intelligence, and smart factories are becoming more commonplace in the U.S. manufacturing industry, emphasizing a deepening need for stronger cybersecurity.
But as we get excited for the future of manufacturing, it is important that we slow down and look at what the manufacturers themselves are saying. What challenges do U.S. manufacturers anticipate facing in the beginning of the new decade? And how does that differ from the past?
As part of the annual NIST MEP Survey, we ask MEP Center clients to identify the top three challenges their companies face over the next three years from a pre-determined list. We've been asking this question for a little over a decade now and thousands of clients have taken the time to give us their thoughts. The data that the MEP National Network™ has gathered from this question provides a peek into the minds of CEOs. Understanding the business and economic factors that influence companies can help the Network prepare for a new decade of supporting the U.S. manufacturing industry.
The prioritization of challenges among the MEP National Network clients has changed some with a different economic environment and with the industry reconciling the adoption of more technological advances and workforce shortages. Some of the challenges have been consistent (such as continuous improvement), while others have become increasingly important over time. The most significant changes to client responses focus on the issue of employee recruitment and retention. Over the past decade, the share of MEP Center clients reporting this as a challenge has more than doubled and is now the second most frequently reported challenge companies are facing. Some other interesting shifts have also occurred, including:
Ongoing continuous improvement and cost reduction issues remain the most frequently cited challenge by MEP Center clients through a decade, although the percentage of respondents reporting this challenge has dipped from 70% to 65.3%.
Identifying growth opportunities experienced the largest decline among challenges cited, dropping nearly 11 percentage points between the beginning (FY 2010) and end of the decade (FY 2019). However, growth opportunities still ranks as the third most common challenge cited as of FY 2019.
Technology needs as well as managing partners and suppliers are two challenges that are now more frequently cited at the end of the decade compared with the beginning. While both challenges are being reported by about 16% of clients, the change from FY 2010 is significant. These shifts seem to reflect the increased pace of technological change and a greater need for supply chain management.
Financing and sustainability both fell as client challenges over time. They fell by more than 6 percentage points between FY 2010 and FY 2019. The financing shift may reflect more stable economic conditions nationally coming out of the recession, which would mean easier access to capital and financing.
While there have been shifts, other challenges have remained more consistent, such as:
Innovation/product development is one of the more consistent challenges for MEP Center clients. The share of clients citing innovation/product development declined by 6 percentage points between FY 2010 (46.7%) and FY2019 (40.1%). However, the challenge is still the 4th most reported challenge by a significant margin, with the 5th most reported challenge (sustainability) being reported by only 18.4% of respondents in FY 2019.
Exporting remains the least cited challenge and was reported by only 6% of respondents in FY 2019 versus 8% of respondents in FY 2010.
The data collected from the challenges question on the MEP Client Survey is consistent through the decade with one glaring outlier, employee recruitment and retention. Workforce is a challenge that spans all industries, and our data shows just how hard it is hitting U.S. manufacturers. As we enter a decade where U.S. manufacturing should evolve at an even faster pace than the previous decade, it remains important to stay in touch with what manufacturers themselves are saying they need help with. We can both guide the industry into the future while supporting their daily operations.
So, as we enter the new decade, it is important to take a step back and listen to what MEP Center clients are telling us. Being responsive to the needs of U.S. manufacturers and helping mitigate their challenges is one of the reasons the MEP Program is around. Integrating this client feedback so that MEP Centers may help their clients merge existing challenges with an evolving environment and technological landscape is important to strengthening the industry and nation in the upcoming years.
Please let us know of any thoughts that you have or topics you would like to see addressed in future blogs.